"A Decision To Create"
Since my last post having finished my creative space I have been full-on …well….creating 🙂    And WWOOWWW what a last 6 weeks it has been since I finalised the date for my first solo exibition. I can not thank Claudia Aalderink at 'The Mandarin Tree' enough for hosting 10 x pieces of my work for the next two weeks. (1st-15th December)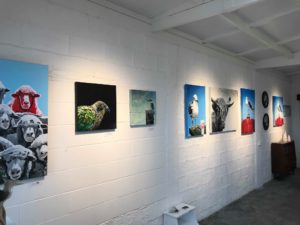 Saturday was the big day for the opening and although the weather was miserable it didn't stop approximately 50 guests attending. It was a bit over welming for me to have such great support of my work and this also showed with four originals being snapped up on opening day. It's such an honour everytime someone purchases a peice of work knowing it will soon be on display in a new home to be appreciated daily.
Thankyou Treena Christian for an amazing job preparing the grazing platters as well, this along with a few drinks added to a great atmosphere. Now the only thing to do is continue to do what I love, enjoy this journey I have started and create beautiful things for you to enjoy.
Thank-you all so much for checking out the show, and those that missed out if you can make the time go have a look before these originals are gone.
1035 Gordonton Rd, Gordonton, Waikato Tuesday-Saturday 10am-5pm